Yesterday
Posted March 22, 2015 in life. 10 min read (1844 words)
This post is almost pyrrhic - prior to writing, I had nothing to write about. Of course that's misleading because you can write about anything - what you like or don't like, newly learned information, or something as simple as yesterday. What I meant is that I didn't want to write anything. ¡Qué horror!
Problem is that the point of this blog is to improve my writing and organization of thoughts. Natural talents aside, one of the best ways to do that is repetition and lots of it. I'd be damned if my writing stays stagnant only because I was too afraid to do anything about it, so I'll write for the sake of writing, and tackle the lowest hanging fruit - yesterday.
March 21, 2015
My little brother Robert was staying with me in San Francisco for his spring break, and by the fifth day of his stay we decided to ride bikes to Sausalito. At first Robert was unsure about the trip because he hasn't ridden a bike since forever, and that the route would be the longest he's ever ridden. I learned how to guide inexperienced cyclists from earlier rides with friends and assured him that.
After this discourse I realized that I must be out of shape - I had a hard time staying on the court during the North West Association of the Deaf Basketball (NWADB) tournament in Sacramento two weekends ago, and not much could have changed. Immense pride in my own athletic ability downplayed possibilities of disaster, and then I failed to tell Robert that this would be my farthest ride too.
Robert didn't come to San Francisco with a bike so we went to Mission Bicycle on Valencia - I chose this store despite its higher than average rental fees because I was curious about the bikes.
Mission Bicycle's bikes are built with high-quality chromoly steel, the same as my Fyxation Eastside track bike, but the difference is in the bicycle frame tubing - double-butted versus straight-gauge. The former is considered superior because there is less material in the middle of the tubes and more at the ends, thus saving weight without compromising the frame's structural integrity. I bought the Fyxation bike because I wanted a bomb-proof frame that would handle city riding without denting, even if its locked up at public bike racks all of the time. Also I weighed 285 pounds at the time of purchase, looking to shave 1-2 pounds off the frame instead of the body is a farce.
During Robert's bike fitting I immediately noticed the weight savings - especially in the cockpit area, because I was accustomed to the heavy wheels that came with the stock Fyxation build. Made mental notes to swap these out for something lighter, maybe H Plus Son Archetypes for responsive handling.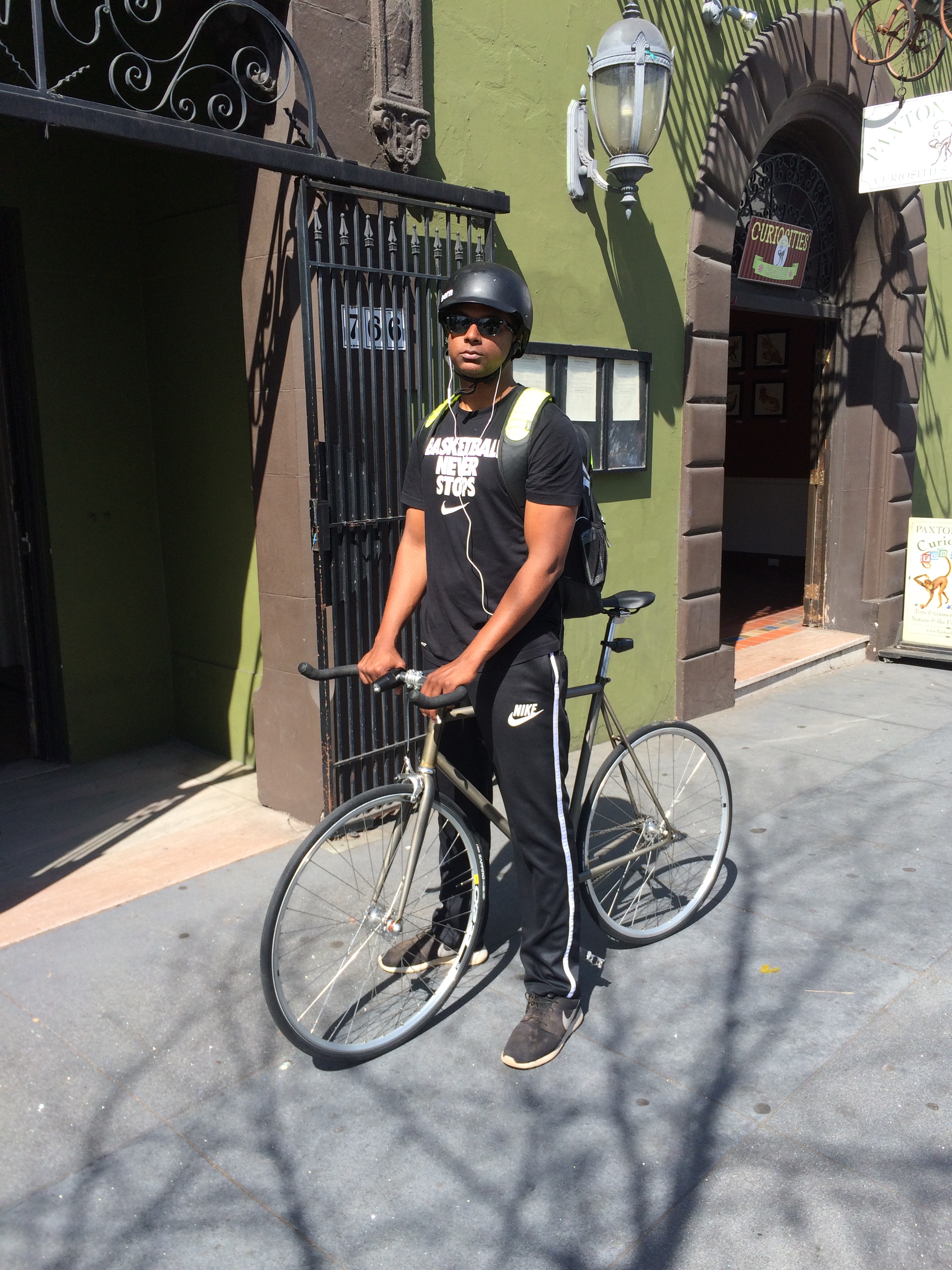 The Ride
The Mission District is known as the bike district, with a flat landscape and Valencia Street being the home of many bike shops, and the stop lights are timed for cycling speed at 17 miles per hour. One would only need to pedal at a regular pace to hit greens all the the way to Market Street. The chosen route from the Mission to Sausalito is about 13 miles long so we started out on Valencia between 18th and 19th streets, and then proceeded to Market.
Market Street is the one street that turns me into a cycling demon every damn time. It's mostly because the armored drivers there manage to be morons on an impressive level - they refuse to understand that cyclists require space and its scary as hell when that is diminished. Cutting you off, honking at you for not cycling at superhuman speed (I'm fast already), and not fucking paying attention are some of the bullshit they do on the road. Plenty of times I've wished to smash the windows of those cars, only to settle with profane fingers and yelling. Someday.
At this point, I've already glanced back at Robert a few times to gauge his cycling form and gained confidence in his skill. I started pedaling harder and became bolder with gaps and stop lights but not too much. Still, it was a lot for someone who's never cycled through a dense city like San Francisco. Maybe it wasn't smart and makes me no better than the drivers, but I can't help it. I don't let other cars go faster than me when I'm driving neither.
It's funny, because I remember cringing when a cyclist friend told me that one of his favorite things about cycling is squeezing through traffic gaps and letting car mirrors lightly graze his arms to measure optimal angles - now I think cycling is boring without this sensation and because of that I ride almost exclusively within city limits. There's something about urban riding that makes you feel alive.
Anyhow Robert stayed behind me and we were traveling faster than cars. We got to the Ferry Building quickly and went past the Fisherman's Wharf to North Beach, passing at least a hundred cars stuck in traffic. When we got to Marina Green, I noticed the awesome cookout environment and promised myself to host a gathering there one day. Chrissy Field was perfect for touch football and soccer.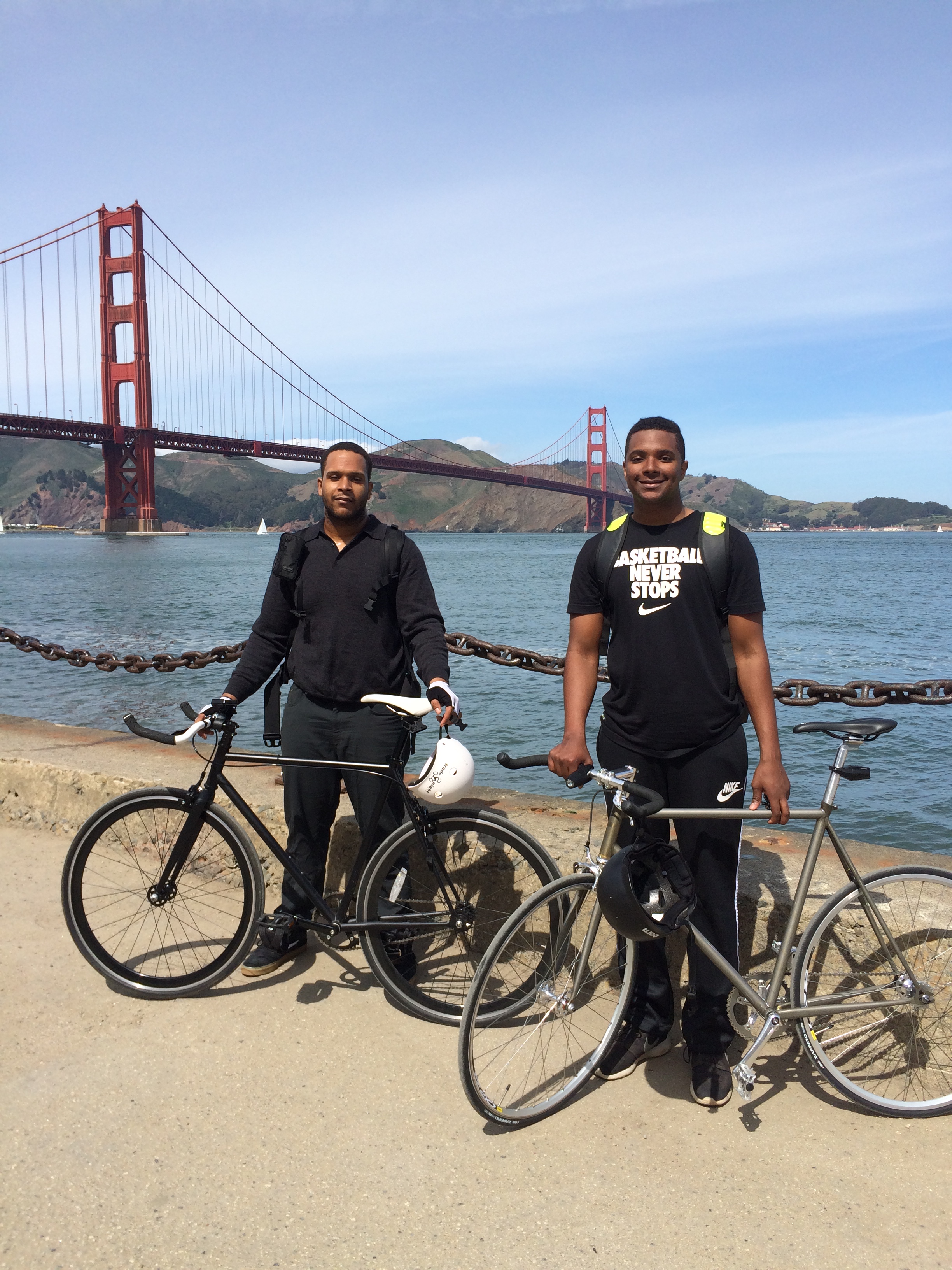 Finally, we got on the Golden Gate bridge and the views were spectacular. This was my third time on the bridge, but only this first time on a bike I finally understood the bridge's appeal. You can see Sausalito, Marin, Alcatraz, Angel Island, Treasure Island, San Francisco, and the East Bay all in one sweeping view. The quality of the panorama depends on whether or not Karl the Fog is around, and he was nowhere to be seen during our trip. We got lucky!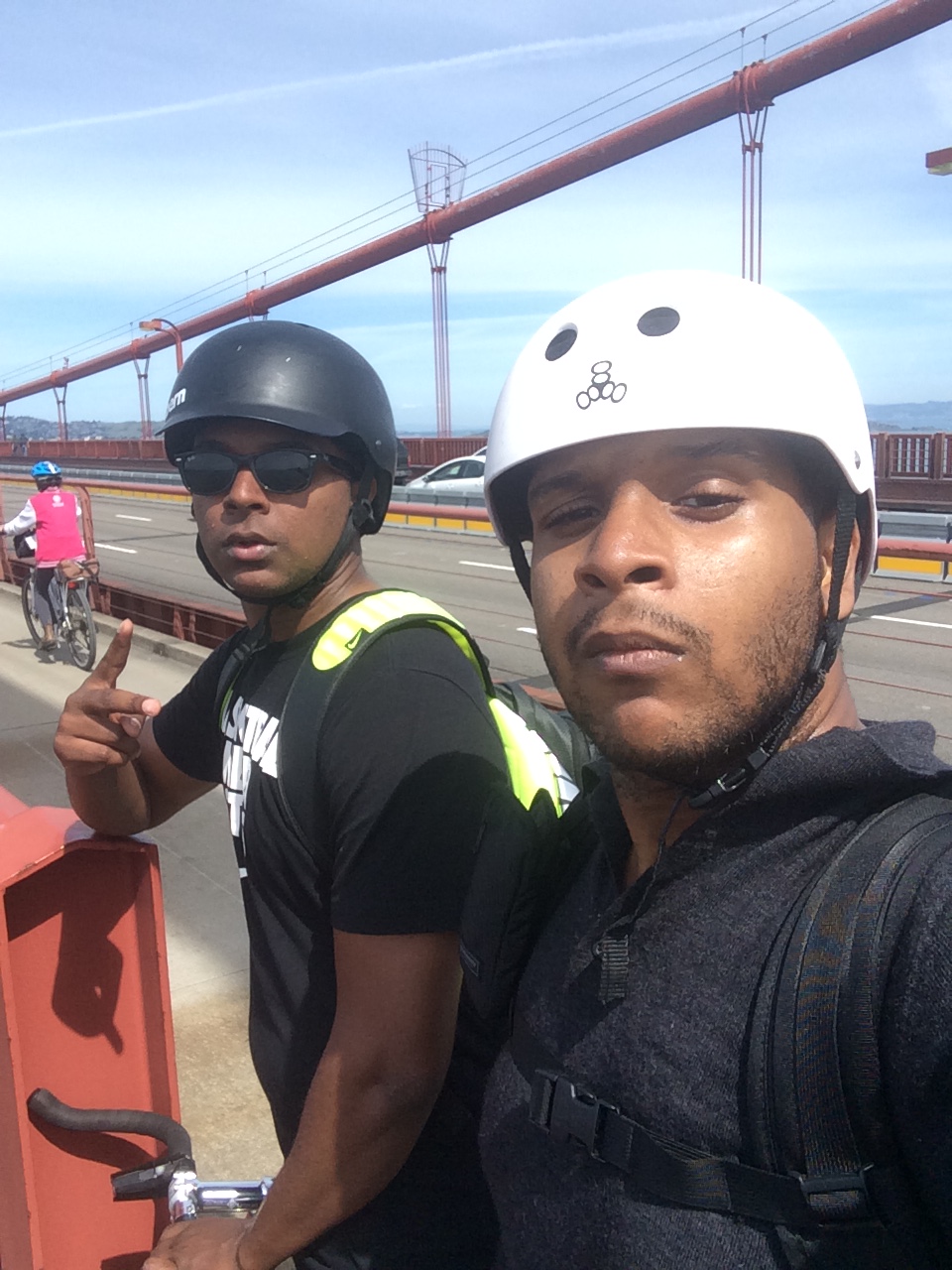 I learned that for bike rides on the Golden Gate bridge, its best to go on a weekday. The bridge is too crowded on weekends, and there were several times in which I almost crashed into an incoming rider. Anyway the ride so far was easy, but then we found out that the route from the bridge to Sausalito would be the hardest part, though overall it wasn't bad at all. Robert and I got into a descent and unleashed the power of gravity to zoom down to downtown Sausalito.
Indeed, I thought the Bay Area couldn't be more beautiful than what I've already seen. Look in any direction from Sausalito, there's a million dollar view. To the west there's the hills of beautiful properties armed with large windows buried in vegetation overlooking whatever is east of the Golden Gate bridge. The east gives you panoramic views of Angel Island and the East Bay. North gets you Tiburon and Richardson Bay, and the south brings you the San Francisco city skyline. There is little room for improvement.
Downtown Sausalito reminded me of Balboa Island in Newport Beach with its small town feel coupled with good shopping and dining options, and the use of ferry boats for travel. Most folks there had good vibes, however it was impossible to ignore the fact that the city was homogenous, and figured that was the reason why there are no BART stops here - they don't want outsiders in. Robert and I counted exactly one homeless person, and he seemed to be the nomadic type, rather than a fixture of the city. Sausalito is really an exclusive community, with only around 7000 people living within city limits at the median per capita income of $80k. I don't think that's even the whole story, and something tells me that there's a lot of old money in Sausalito.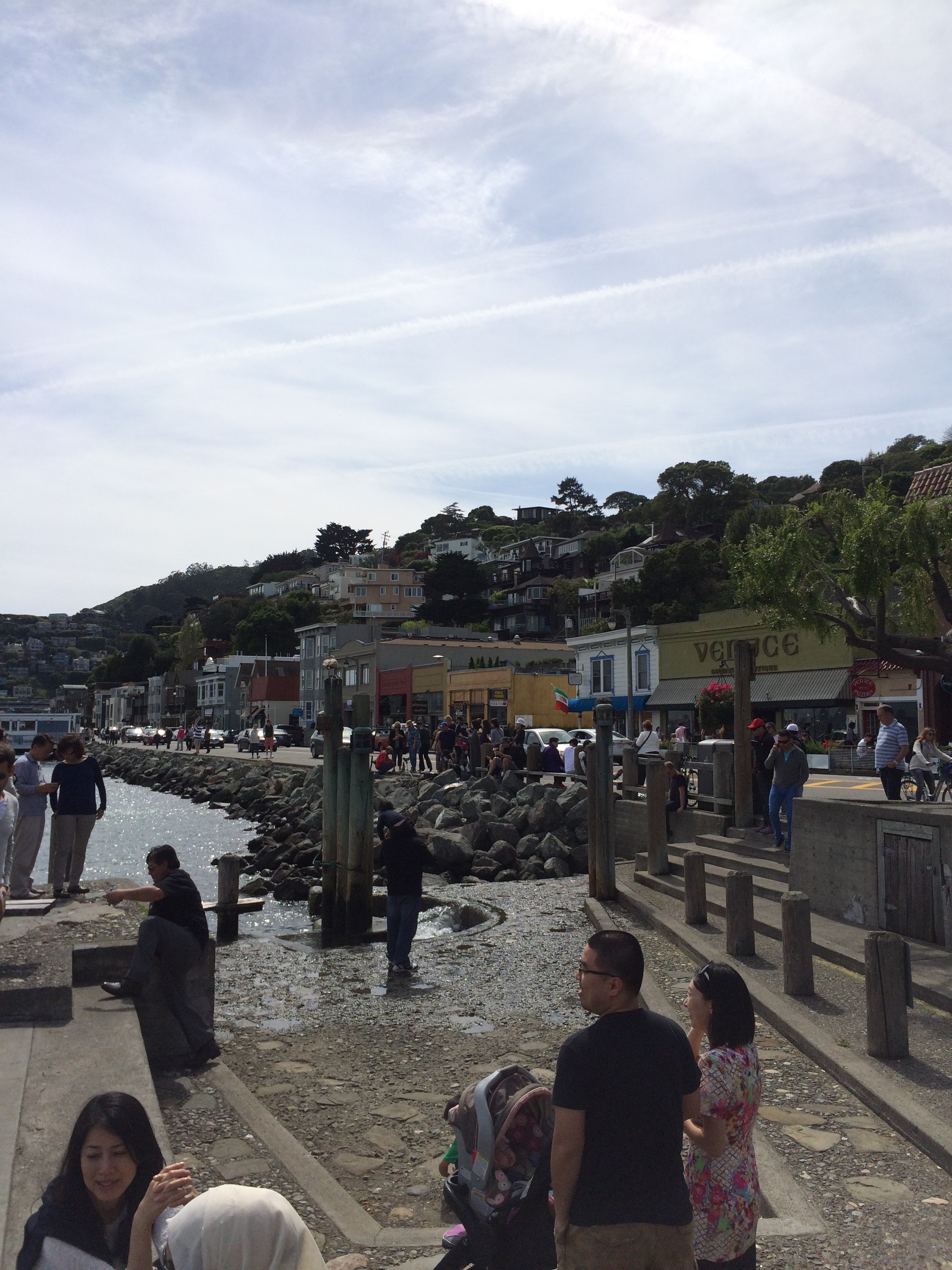 After ordering and eating delicious beef tongue lettuce wrap and clam chowder at a restaurant we picked without the assistance of Yelp, we left our bikes at a bike rack in downtown Sausalito to walk to the piers. On the way we stopped at an art gallery housing the finest collection of artwork I've ever seen in person. The prices matched the marvel, as I'd be hard pressed to find an item that cost less than $5k although I concluded that the prices are representative of the wealth of potential buyers, rather than actual value. I have a cynical perspective on commodified art, so maybe not take my word for it. There were more artwork upstairs but the section was closed off to the public (unless rich I'm sure) during the weekends due to increased traffic.
At the pier there were the famous houseboats, which are literally houses on water, not boat homes that still look like boats. They are fascinating - the story is that the decommissioning of Marinship shipyards after World War II led to the reuse of abandoned boat materials to build houses on the water. Why would anyone want to live in a house that can't even move on the water, I don't know. Each to their own!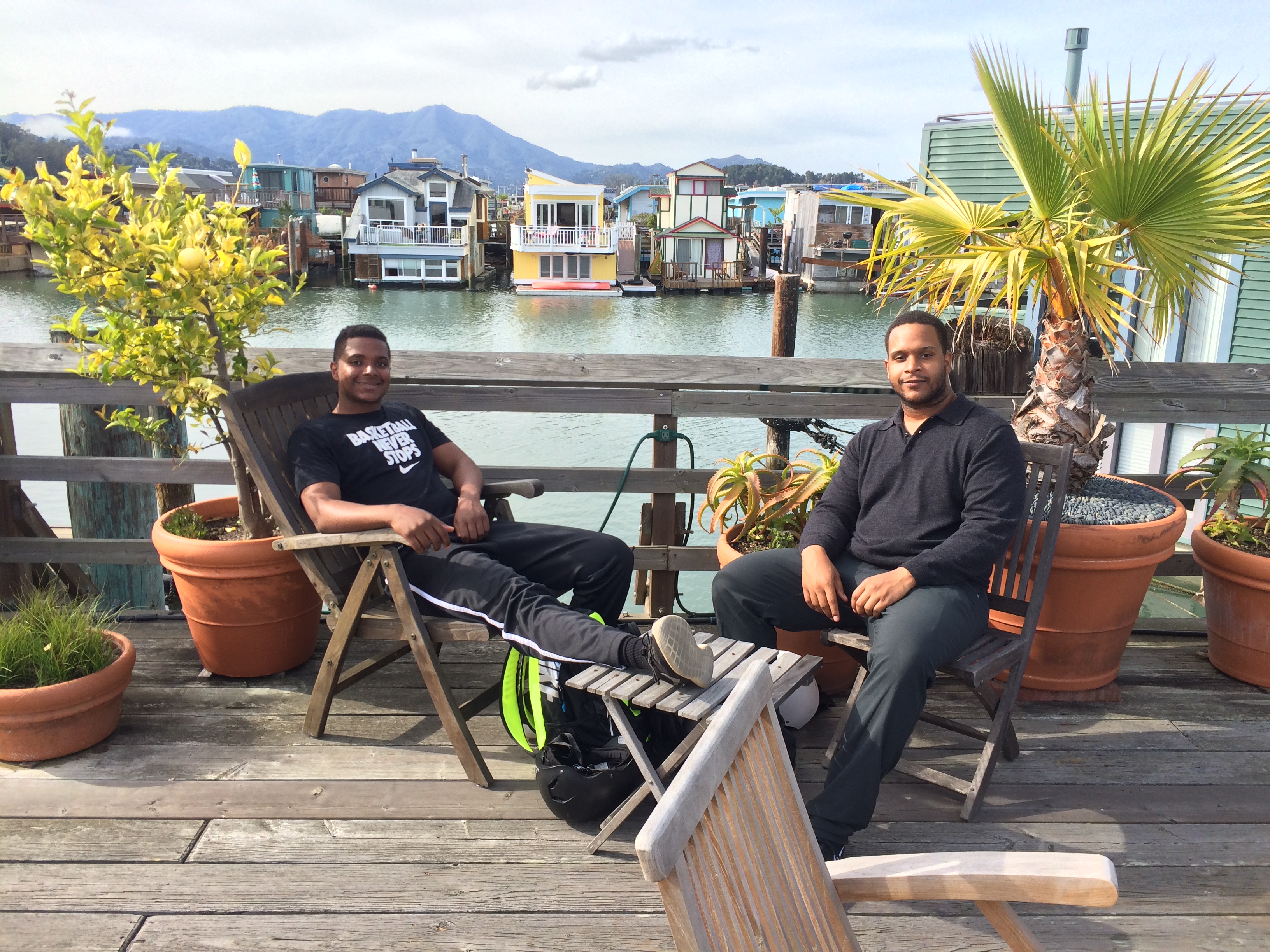 In the end, we were ready to go back. The ferry was a good idea for three reasons - I was late for a dinner party with friends, the boat ride would be an experience in itself, and the beginning of the route back to San Francisco would expose our single speed (no gears) bike setups with no lack of steep uphill cycling.
After Robert bought a $11 single-use ticket and I loaded my Clipper card, we were surprised by the ridiculously long line for specifically ferry riders with bicycles. We wondered if the line was short enough for us to catch the next departure so we asked people around us, but nobody had a clue. It made sense because we were the only ones with bikes that didn't belong to a "Ride to Sausalito" program, which suggested that everyone else were tourists. After standing around for 10 minutes without moving, I decided to leave my brother to hop on a Transbay bus back to San Francisco so I could make it to the party. Robert ended up boarding a hour later, so I made the right decision at the expense of extra quality time with him.
The dinner party was in Bernal Heights, so I had to cycle at full speed from Civic Center to my house in the Mission to shower, change clothes, and pack two bottles of wine and rum in record time and then Lyft picked me up and took me to the house. I didn't know who was invited the party so after getting over the fact that I left my jacket in the Lyft car, I was delighted to find wonderful people and we had good food and conversations all night in the presence of another remarkable view - this time of the Sutro Tower.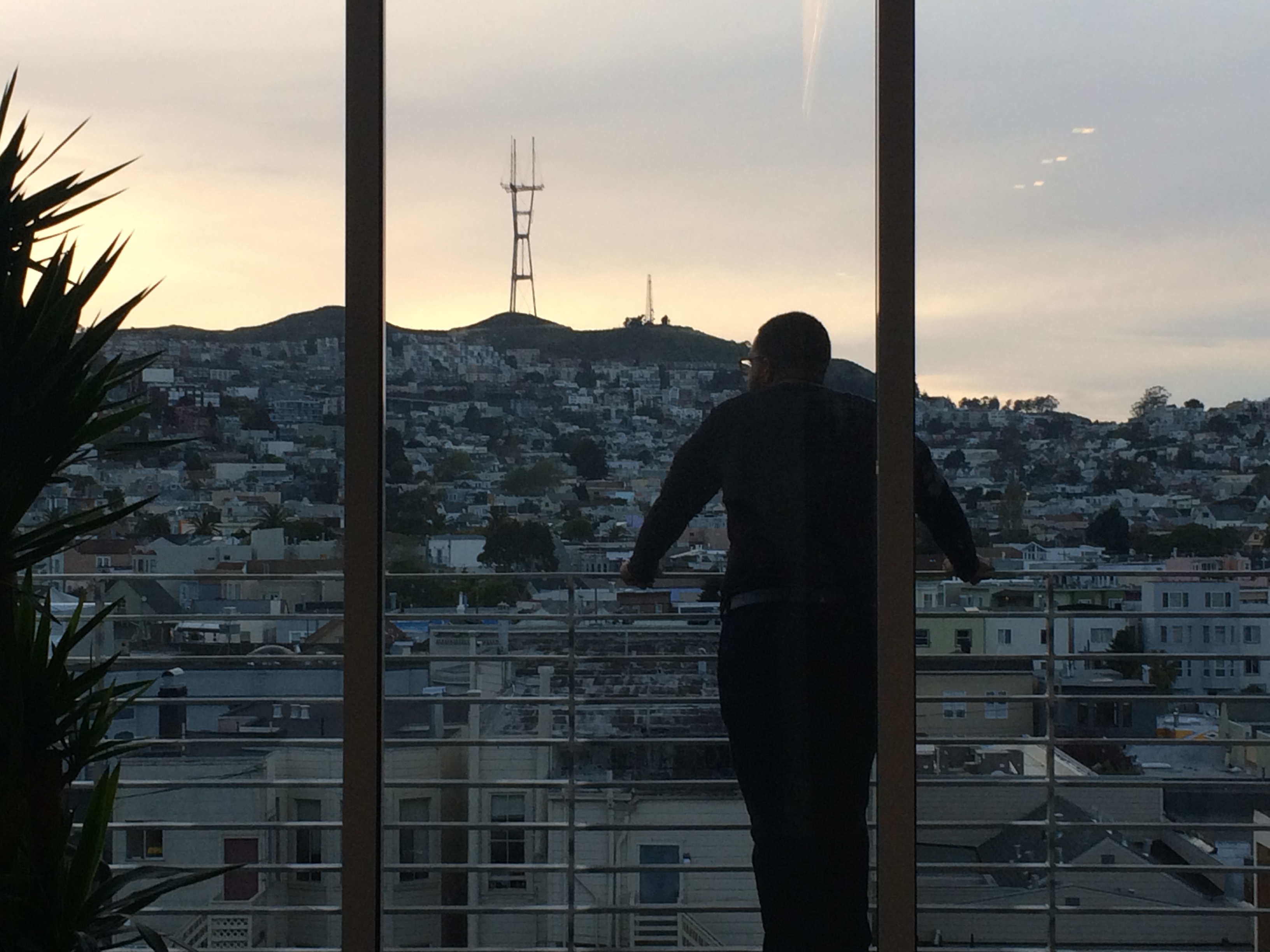 Yesterday was a great day.